Royal Caribbean's Explorer of the Seas

Vacation aboard Royal Caribbean International's Finest and Largest ship in the World. Cruising couldn't be better. Sail, have fun, unpack once. Every luxury amenity is onboard for your cruising pleasure.

This incredible ship has everything to keep you entertained. Take a look below at what you will find on this ship.

La Scala Theater

Carmen Dining Room

La Boheme Dining Room

Magic Flute Dining Room

Seville Dining Room

Grenada Dining Room

Café Promenade

Seaside Diner

Windjammer Café

Island Grill

Portofino Dining Room

Sprinkles Ice Cream Parlor

La Scala Theater

Cleopatra's Needle Lounge

The Vault Disco/Night Club

Skylight Wedding Chapel

Crown & Anchor Pub

Sports Court
Jogging & Rollerblade Tracks
Video Game Room
Miniture Golf
Ice Rink
Rock Climbing Wall
Helipad

Connoisseur Cigar Club
Schooner Bar
Champagne Bar
Champagne Terrace
Scoreboard Sports Bar
Viking Crown Lounge
Conference Center
Card Room
Library
Studio B TV Center
Casino Royale
Ship Shape Fitness Center and Full-Service Spa
Royal Promenade Boutiques
Photo Gallery
Three Pools (One with retractable glass roof)
Six Whirlpools
Pool Bar
Beauty Salon and Barber Shop
Medical Center



Features
The Royal Promenade. The heart of Explorer and Voyager is this wonderful "street", with shops, sidewalk cafes, a pub, sports bar and even self-serve frozen yogurt. It's perfect for people-watching during the day and at night the parade of brightly costumed performers is a blast.



The Viking Crown Lounge. A stunning lounge perched 14 decks above the water (don't look down if you have a fear of heights!), decorated with jazz-themed art and a bronze statue of Dizzy Gillespie.



The Connoisseur Cigar Club. Pity those of us who don't smoke cigars. One of the most beautiful cigar lounges at sea, with cozy seating, rich red walls and art that dazzles.



The Chamber Night Club. Visit this wild spot, even if you don't boogie. This two-level nightclub is reminiscent of the "Limelight" nightclub in New York City, built in an old church, and one of the hottest nightspots in the city.



Art. An amazing array of modern art, including "Art Stars," with works by Tony Curtis, Anthony Quinn, Peter Falk, Miles Davis and Billy Dee Williams. Don't miss Herb Alpert's prints and sculptures or Annie Liebovitz's photos of celebrities.



Skylight Chapel. Say "I Do" in this beautiful chapel (weddings only in port), located 15 decks above the sea and bring up to 60 friends and families.



The Solarium. Spanish bullfighters and a huge bull are the theme art of this sybaritic oasis of tranquility with palm trees, fountains, statues, huge jacuzzis and a retractable sun roof.



Ice Skating Rink. Wonderful shows by professional skaters at night but you can also don skates yourself and twirl during the daytime.
Fine Dining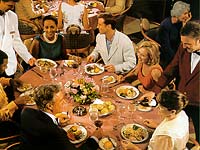 It's not easy to find such an array of restaurants when travelling unless you bring them with you.You've spent the afternoon shopping, sightseeing and strolling streets far from home. Now who wants to search for the perfect restaurant? That's the beauty of traveling with RCCL. You can roam the world, and still come back onboard to your favorite restaurants each night. Ones with cuisine as varied and delightful as the countries you're visiting. Dine on fresh salmon or try authentic Costoletta di Vitello from Italy. Of course, if you prefer, you can still dine or good old American steak. Isn't having your own restaurant great?

On board, you'll be treated to more options than ever before. Including new casual dining service in the windowlined Windjammer Cafe. No need for reservations or dressup clothes. Just relax and start planning all of your next day's dining adventures: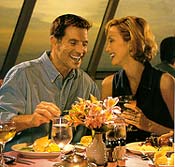 Breakfast in bed


sunrise coffee and pastries on deck


Full breakfast in the dining room


Relaxed buffet in the Windjammer Cafe


Casual, poolside lunch


Full menu in the dining room for lunch


Afternoon tea, snacks and ice cream bar


Fine dining every evening


Windjammer At Night, casual dinner service


Midnight buffet


24-hour room service in your cabin (full dining room menu available during regular dining hours)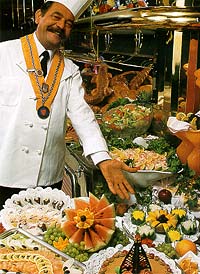 HEALTHY EATING
On Royal Caribbean ships, it isn't just the beautifully prepared, infinitely tempting variety that will keep bringing you to the table. It's also all the healthy and guilt-free choices.

Every meal includes low-fat, ShipShape menu choices, Vegetarian entrees at lunch and dinner, Fresh fruits and other natural snacks are always available.

TIME TO EAT
There is a main seating for dinner at 6:00 p.m. And a later seating at 8:30. Just let your travel agent know your preference when you book with us and we'll gladly make arrangements.
Either seating will allow you to see all the shows, play all the games, and experience everything a Royal Caribbean cruise vacation has to offer.
Sample Dinner Menu
Appetizers
Tomato Juice..... Peach Nectar..... Cranberry Juice..... Fruit Cocktail
Crabmeat Cocktail .....Smoked Trout .....Chicago Sausage Pizza
Soups
New England Clam Chowder
Chicken in Pot Matzoh Ball
Chilled Cucumber Doria
Salads
Hawaiian Salad
Heart of Lettuce with Pimento
& Chopped Eggs
Entrees
Cajun Fried Catfish, stewed tomatoes,
sugar peas and cajun rice
Creole Shrimp with cajon rice, succotash & baby carrots
Sugar Cured Ham in Pineappple Port Wine, succotash, sweet potatoes & brussel sprouts
Roast Vermont Turkey with apple dressing, sweet potatoes, brussel sprouts & succotash
Prime Rib of Kansas Beef au Jus with sugar peas & baby carrots
Vegetables
Baked Idaho Potato
Cheeses
Jarlsberg, Port ,Salut ,Cheddar ,Edam, Swiss, Gorgonzola ,Bel Paese
Desserts
Baked Alaska..... Strawberry Shortcake
Key Lime Pie..... Fresh Fruit
Apple Strudel with Vanilla Sauce .....Chocolate Mousse
Ice Cream
Butter Pecan, Raspberry Sherbet

Perfect Days
Once you board a Royal Caribbean cruise ship, the stage has already been set for perfection: You're already far from work, you're already taking in some of the most beautiful sights in the world and you're enjoying some of the finest weather on the planet. The choices you make from here on out will only improve on perfection.

Take a dip in the crystal-clear swimming pool, get a facial, relax in a poolside whirlpool. When the ship is in port, take an organized shore excursion - or explore the islands on your own.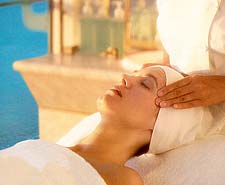 Get Pumped!
Start off the day with an invigorating and fun workout in the ShipShape Fitness Center.
This world class fitness center features state-of-the-art cardiovascular equipment and many aerobic fitness classes to choose from for all levels. Enjoy the fresh sea air jogging on the outdoor track or get in a game of basketball.

Get Pampered!
Who deserves to be pampered more than you? NOBODY! The ShipShape Spa is the perfect place to relax, restore, and rejuvenate. Try a therapeutic body massage, seaweed wrap, oil and mudbath treatment, or manicure. Come on, you know you've always wanted a facial. How about a new hairstyle, cut or color?


Get Shopping!
You can find everything you want shopping in duty free boutiques: a unique souvenir for that special friend, designer cruise wear for lounging pool side or a piece of fine cyrstal that will look perfect on your bookshelf. And just in case you forgot suntan lotion, or need a razor, the on board boutiques also offer a full line of sundries.