Get Ready, Get Set, GO!
Things To Know Before You Go.
Planning for your cruise vacation can be half the fun. On a Royal Caribbean vacation, nearly everything is taken care of and, in order to help you get ready, I've put together this collection of some of the most commonly asked questions.
What documents will I need to travel?
Passports are recommended for all US citizens for all travel outside of the United States. All guests are required to submit acceptable proof of identity.
Documents that will be accepted as proof of identity are: a passport; a federal, state, or a local government-issued picture ID card; an original or certified copy of your birth certificate with one of the following photo ID cards: state driver's license; US company employee ID card; or an ID card issued by a private identification card service. A voter's registration card is no longer acceptable on its own, but may be used as support.
Non-US citizens residing in the United States must show valid Alien Registration (green) cards prior to boarding the ship. Please double check with your government agencies, embassies or consulates to determine your own documentary requirements.
Canadians should bring a passport. If you do not have a passport two valid forms of photo I.D. need to be brought, e.g original birth certificate, driver's license, Canadian citizen card.
You are responsible for bringing all travel documents such as passports, visas, proof of citizenship, etc., required for boarding and reentry into the US. No refunds will be given to individuals who fail to bring the required documentation. For your protection, Royal Caribbean recommends that your passport expiration date not occur within six (6) months of the voyage termination date.
I always recommend making photocopies of the following and keeping them in a separate place from the originals: passport, birth certificate, driver's license, citizen card, credit cards, personal checks, ATM banking cards. If you should lose the originals the photocopies can help in restoring them quicker.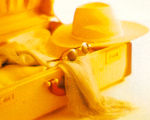 Royal Caribbean Packing Information

In general, be comfortable. Days onboard are casual. And in the evening, things get as formal as you wish or casual chic. Definitely no jeans at night ! In the daytime you'll be most comfortable in sports clothes and resort wear. Shoes should be low-heeled for deck activities. Bring a few swimsuits so you'll always have a dry one. Also make sure to bring a cover-up for your swimsuit for traveling between your cabin and the pool decks. The air conditioning in the corridors makes for a sharp contrast when you enter the ship still wet and warm from the sun.
Don't forget your camera, binoculars and a swimsuit! (Towels are provided.) Good idea to bring a money belt as well for when you go shopping.
What about blow-dryers, electric razors, adaptors & laundry?
Bring your blow dryer and electric razor (you won't need an adaptor). For a very sensible fee, they will do your laundry and dry cleaning in just one day.
When can I board the ship?
You may begin boarding the ship at 2:00 P.M. It's your responsibility to arrive on time. The latest a guest can board the ship is 60 minutes before departure.
How and where do I check in?
Simply present your cruise documents to one of the Royal Caribbean receptionists in the cruise terminal. They will issue you a Passenger Cruise Card, which will server as you identification card for boarding and re-boarding the ship. It also acts as a SuperCharge Card for the onboard purchases as well as indicating your dining room seating assignment.
What about Dining? And Room Service?
When you make your cruise vacation reservations, tell me whether you'd like to have dinner at 6:15pm (main seating) or 8:30pm (second seating). Your seating time will be noted on your cruise ticket, and your Passenger Cruise Card will indicate your pre-assigned table number. If preferred dining is not available, you can be put on a wait list. Dining will be cleared closer to the sailing date based on availability. I recommend the second seating since it gives you more time ashore. For your convenience, complimentary 24-hour Room Service is also available - in addition to breakfast, lunch, dinner, snack service and midnight buffet.
You will have your choice of the following: Sunrise coffee on deck, breakfast-in-bed, full breakfast in dining room, pool-side lunch, dining room lunch, afternoon tea, snacks, cocktails, dining room dinner and a midnight buffet. Of course, if you somehow manage to get hungry in between, there's always 24-hour room service !

What are the onboard dress codes?
There are three distinct types of "evenings" on board - casual, smart casual and formal. Suggested guidelines for these evenings are as follows.
For evening wear, count on three basic types of attire:
*Casual: summer dresses, skirts or slacks and blouses for women; sport shirts and trousers for men.
*Smart Casual: dressed or pantsuits for women; jackets for men
*Formal: cocktail dresses for women; suits and ties, or tuxedos for men. Basically what you would wear to a summer formal wedding is right. Dark suit for men on formal nights or white dinner jacket with dark pants is fine. You can also rent tuxedos onboard.
Ashore, you'll need comfortable walking shoes, as well as a hat and sunscreen from the sun.
Again, these are guidelines and your evenings attire is left up to your discretion. In addition, Royal Caribbean International does provide alternative casual dining in the Windjammer Cafe onboard on each of the formal evenings if you don't want to ever dress up. Personally however I feel that we don't get enough chances in our busy lives to get gussied up so these evenings are always very special and always the best nights for dining in the dining room.
What is your smoking policy?
For the comfort of the guests, designated smoking and nonsmoking areas are available in all lounges. Cigar and pipe smoking is only permitted on the ships' outer decks. Smoking is not permitted at any time in dining areas. All showrooms are nonsmoking during performances.
How Do I Pay For Onboard Purchases?
For convenience the passengers use the Supercharge signing system. This system allows you to charge all onboard purchases simply by presenting your validated Passenger Cruise Card which is issued to you upon boarding. Your Supercharge charges will be automatically applied to your Visa, MasterCard, American Express, Optima, Diners Club International or Discover card allowing for fast and convenient debarkation. On the last morning of your cruise, an itemized, carefully audited statement of your account will be delivered to your stateroom for verification. Supercharge is used for all purchases on board except those few instances where they require cash such as gratuities (other than wine and bar service), casino gambling and foreign exchange.
If you don't want to use a credit card, simply advise at check-in and they will note on your account that you are paying with cash or travelers checks at the end of the cruise. You can verify your charges at the pursers desk on a daily basis to know what has been charged to your cabin.
What are the tipping guidelines?
Royal Caribbean encourages guests to recognize excellence. The following amounts are suggestions only. Dining room waiters and cabin stewards are typically "tipped" $3.50 per guest per day; assistance waiters, $2.00 per guest per day. Your cabin steward should get $ 3.00 a day. Note: A 15% gratuity will be added to all bar and wine checks.
How much money should I bring?
The price of the cruise includes ship accommodations, meals, some beverages and most entertainment. The amount of money needed for items of a personal nature, such as shore excursions, alcoholic beverages, photos, gratuities, etc. will be at your discretion.
What about shore excursions?

If you book at least 45 days prior to sailing, you'll receive a complete description of shore excursions along with your cruise documents. Once you're on board, I will give you a shore excursion suggestion booklet with the best choices at each destination. I have been to each of these destinations dozens of times and I can best assist you in which tour is worth the money and those which are not worth wasting your money on. As well the knowledgeable staff at the shore excursion desk can assist you with planning and any questions you may have. Tours can be arranged and purchased onboard using your SuperCharge Card.
What do I need to do on the last night of the cruise vacation?

Here's a quick checklist of things you should do on the evening before you return home: *Extend customary gratuities to those who have made your cruise vacation an unforgettable experience.; *Pack your bags and place them outside your stateroom door by midnight. Your cabin steward will give you a colored tag for each piece of luggage. Please put your name and home address on each tag and remove all loose straps and hooks. Carry fragile and valuable items (such as jewelry, cameras, etc. with you. Those with earlier flights will be dis-embarked first. Make sure your flights are no earlier than 11 am to return home.
How should I prepare for customs?
Detailed Instruction about clearing customs will be provided by the Cruise Director during the debarkation talk on the last day of the cruise. We highly recommend that you attend this important and informative talk.