Evenings &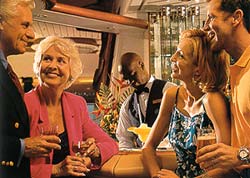 Night Life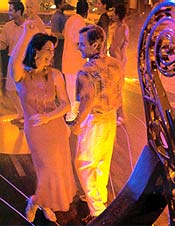 Chances are you haven't done it much since your wedding. You know, dancing. How often in real life do you hear violins and suddenly start waltzing? Or get a chance to shake your booty 14 stories above the ocean in a state-of-the-art disco ?
But fortunately, this isn't real life.
This is vacation. And anything is possible.Have some excitement. Royal Caribbean fills their ships with shows, concerts and theme parties for every kind of group imaginable. Just wander the ship and find the evening - and the music that suits you best.
ON THE DANCE FLOOR
After the third night of buffets, you might just be so relaxed you might want to practice a few of those dance steps you have't used in the past decade or so. And if you could use a little practice, they'll even give you lessons. On board dancing opportunities:
Top 40 in the nightclubs


Limbo to calypso music by the pool


Big band and swing in the lounges


Waltz to classical music


Country line dancing


Twist to hits from the 50s and 60s
Or perhaps you'd rather enjoy a quiet, intimate evening. That's why they also have romantic champagne lounges and cozy bars. Not to mention, deck after deck of sea breezes and starlight. It's your evening. Spend it any way you like. What could be further from real life?

ALL THE WORLD'S A STAGE
When the sun goes down, the curtain goes up on the Wave Revue singers and dancers. This contemporary Broadway-Style Revue is another example of why Royal Caribbean's award-winning productions are renowned throughout the industry.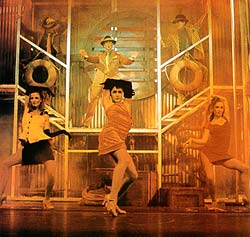 Even better, you'll get everything you'd expect from a first-rate theater without having to wait in line for tickets or find a parking space.

Look forward to:
Broadway-Style Revues

Musicals

Stand-up comics

Movies

Specialty acts

Passenger talent shows
GAMING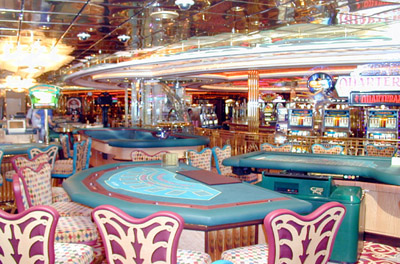 There's nothing like the sound of cards being shuffled, chips being stacked and slot machines paying off. RCCL considers the Casino Royale to be a little bit of Vegas, a little bit of Monte Carlo and a lot of Royal Caribbean fun. They've got games for all levels. Blackjack, Roulette, Craps, Caribbean Stud Poker and Slot Machines galore. There are on-board lessons for novice players and tournaments for the more advanced. Casino RoyaleŽ is open whenever you are sailing, so stop in and try your luck! Won't they be surprised back home when you tell them how much you won at sea? (And even if you exaggerate a bit, they'll never know.)
Fitness Centre & Spa


The seaside fitness center features modern exercise equipment; the full-service spa offers a beauty salon and spa treatments including massage, manicures and seaweed body wraps
Golf Course
Enjoy a small-scale 9 hole golf course ! Practice your swing to get ready for the greatest golfing experience on some of the most beautiful courses in the Caribbean !
Sports Court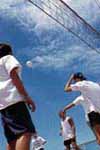 You can enjoy basketball and volleyball in the outdoor sports court to play off those extra calories !
Wedding Chapel
If the tropical breezes coupled with the extremely romantic settings get you in the marriage mood RCCL can accomodate a wedding at sea ! Many people get married on their honeymoon or renew their vows.
The wedding chapel, which can accomodate 60 people, is located on top of the Viking Crown Lounge, the hightest point on the ship and is the perfect place to say. "I do."